Vicky Dobrin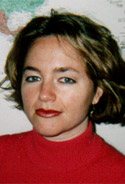 Vicky Dobrin received her J.D. from the University of Arizona in 1998 and her B.A. from the University of Washington in 1993. After law school, she was selected to participate in the Department of Justice Attorney General's Honors Program, as an attorney advisor to 15 federal immigration judges in San Diego, California. Before Vicky and her partner Hilary Han established Dobrin & Han, LLC in 2001, Vicky was an associate attorney in an immigration law firm in San Francisco, California.
Vicky's practice focuses on removal defense, administrative appeals, federal court litigation, asylum, family-based immigration, and citizenship. She also spends a significant amount of time advising criminal attorneys and their clients about the immigration consequences of criminal convictions. Vicky speaks Spanish fluently.
Vicky is a member of the State Bar of Washington, the U.S. District Court for the Western District of Washington, and the Ninth Circuit Court of Appeals.
You can contact Vicky at vicky@dobrin-han.com.